ANY EDITS MADE TO THIS PAGE MUST BE MADE WITH TheBearNamedFred's PERMISSION.

Wolfie is a character in the FNaF Fancomic, New Animatronic. The first page can be found here. She was created by Deviantart user sophie12320.
Appearance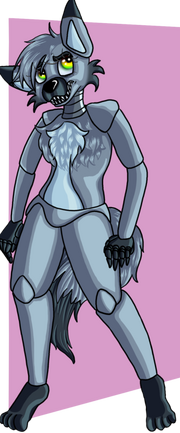 Wolfie is a silvery gray wolf with shaggy hair, a short muzzle, short silver ears, and bright greenish-yellow eyes. Certain parts of her face are highlighted with dark gray accents, such as the tip of her muzzle, ears and hair. Her body is sleek, with a pipe-like neck connecting it to her head. She has a white puff of fur on her torso, stretching down to her hips. She has black, human-like feet and hands, and a typical wolf tail.
Personality
Upon first waking up, Wolfie is quite startled and frightened, however, this fear is replaced by curiosity, as she is still quite childlike. However, her curiosity does tend to get her into trouble.
Backstory
(If you truly want to see spoilers, translate the following below from Greek.)
Το Wolfie είναι μια αχρησιμοποίητη Animatronic ηλικία 5 ετών που δημιουργήθηκε από την Fazbear Entertainment και απορρίφθηκε για άγνωστους λόγους. Ένα 7χρονο παιδί με το όνομα Wendy βρισκόταν στο πίσω δωμάτιο, σκοτώθηκε από ένα μωβ και ανακαλύφθηκε από τον Foxy. Μετά το κλείσιμο του εστιατορίου για την ημέρα, η Bonnie, μετά από μια γρήγορη συζήτηση για το τι θα κάνει μαζί της, βρήκε τον Wolfie, τον έπεισε να περιπλανηθεί στην Wendy στο Wolfie, παγιδεύοντας την ψυχή της. Έτσι η ιστορία συνεχίζεται ...
(Note: Google Translate was a tad bit off: where it said "wandered" it means "trap.")
Trivia
Wolfie's original purpose in the Pizzeria was to give cake to children.

It is unknown why she was unused, but Bonnie says that it was because she wasn't "colorful enough."
Ad blocker interference detected!
Wikia is a free-to-use site that makes money from advertising. We have a modified experience for viewers using ad blockers

Wikia is not accessible if you've made further modifications. Remove the custom ad blocker rule(s) and the page will load as expected.