Freddy (Which I play as) from the Abandoned RP is a little more.... Eh.... Comedic. He goes on an adventure to save the world and still has some funny moments in the process. So why not show images I got from the wiki for the roleplay itself and place them on here?: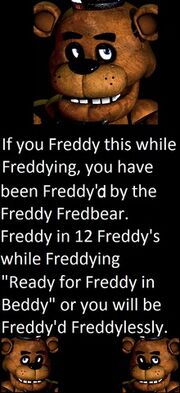 He's also very comedic! I mean one time he literal chopped off his arm, and surprisingly he was just doing a little joke! Can you believe it?
If you have any questions are Freddy ask in the comments below.... Or don't.... Just... Idk, ask if you want or leave if you want.
Ok bye!
Ad blocker interference detected!
Wikia is a free-to-use site that makes money from advertising. We have a modified experience for viewers using ad blockers

Wikia is not accessible if you've made further modifications. Remove the custom ad blocker rule(s) and the page will load as expected.