Hello! Drawkill Freddy here! I wanted you to meet the others here! These are just the original designs (available for Source Film Maker) , but have been downgraded so they don't have any weapons built in.
Please note that none of these animatronics are mine! I have a link to the original creator on my profile page!!
Bonnie:  Sure he has huge hands but not to worry!  They just help him play guitar better!!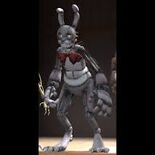 Chica:  One of the pizza-cutters of the group! And, no, by "pizza" I do not mean "children". The skeleton-resembling wings are just for cutting pizza. And, while humans are present, the wings are covered so nothing... bad ... happens.
Foxy: The other pizza-cutter of the group! It has special sensors, which tells him to put it away when it's too close to a child. The company has modified him so his hook is now handheld. This way, he can remove it without having to scare the children.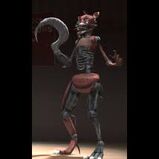 Me, or Freddy: The original creator of my model had flamethrowers and spikes built into my arms, but I had the company remove those, since they were too deadly and I didn't like that too much. So me, in my curent form, I have no flamethrowers or spikes anymore. I just didn't want to give anyone nighmares, y'know?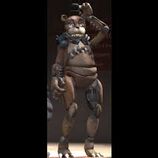 I hope those introductions cleared stuff out! See you tommorow! Or shall I say...tonight?