the This this call is from Fredbear's Family Diner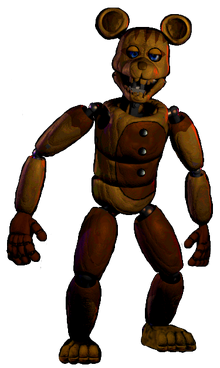 "Wow. We just saw a animatronic that looked like a rat. He always was glitchy,He would twitch his head so much that I saw it upsidedown.~Phone Guy
Backstory
Rhonin started as a attraction in Fredbear's Family Diner giving kids Cheese Pizza.
FNAC
Later, He was sold to Candy's Burgers and Fries.
FNAC 2
Later, he lost suit parts and his right ear and eyes
Ad blocker interference detected!
Wikia is a free-to-use site that makes money from advertising. We have a modified experience for viewers using ad blockers

Wikia is not accessible if you've made further modifications. Remove the custom ad blocker rule(s) and the page will load as expected.