"READ ME!"





You can read Ultimate Freddy (joke). In fact, you may only read it, but don't edit it without Chiselerlikescheese's permission; unless you are fixing spelling mistakes. Also keep Mangle's gender how it is. Thank you.

Please regard the following page as a joke
Ultamite Freddy (AKA Nightmare Nightmare Freddy) is the best character, donut steel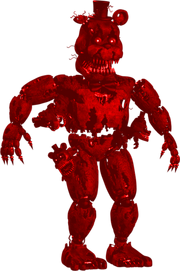 Appearance
He is a red Nightmare Freddy. He is so powaful, and is awesome. He is also titanium, which is better than steel
Info
Hee is the best and scary horror game monster! his power level is OVER 9000! (It's actually under 1000)
Trivia (Jokes end here)
This is the first joke character that CLC has made
There actually are better and scarier horror game monsters
Ad blocker interference detected!
Wikia is a free-to-use site that makes money from advertising. We have a modified experience for viewers using ad blockers

Wikia is not accessible if you've made further modifications. Remove the custom ad blocker rule(s) and the page will load as expected.