Sy, The O'Hare Delivery Guy (Ultimate Destruction Form)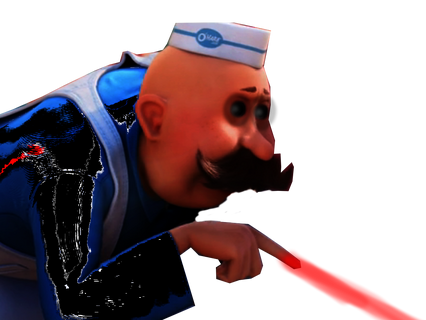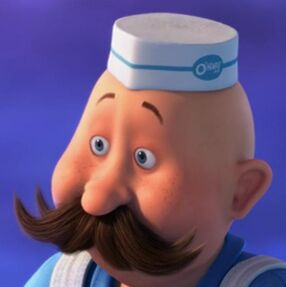 Sy is an immortal being from another dimension who travels to planets to drain them of life, many don't know Sy, but he's just the O'Hare Delivery Guy, he thinks that trees are worth a try.
The picture on the right is Sy when in his Ultimate Destruction Form is in effect, He can switch to this form quickly, whenever he pleases, when he is in this form he is at maximum power, his regular human form is shown below
Sy is a very powerful being, and can kill someone in an instant, once he points at you, it's all over he'll jab you with his powerful finger and scream as loud as he can, destroying your entire body in a matter of
seconds.
Y O U G R E E D Y D I R T B A G
Powers
Sy has a variety of powerful attacks.
He is able to shoot lasers from his fingers and eyes, he is extremely strong and can crush your body using one hand
however his ultimate attack is the Death Scream Jab
He will jab you with his finger, stunning you, so you can't get away
and he will scream extremely loud, causing your body to shake and slowly disengrate
Y O U G R E E D Y D I R T B A G
Sy shows no mercy.
Backstory and past
Sy is a powerful tyrant and immortal being, he has been alive since the dawn of time, and has taken many forms
His current form known as Sy The O'Hare Delivery Guy has been his current form since 2012.
He travels through dimensions and space, destroying planets and causing many alien races to go extinct.
He can destroy cities, millions of humans and aliens alike with one use of his ultimate Death Scream Jab.
The only thing stopping Sy from taking over Earth and killing thousands is his arch enemy, The Once-ler.
They have been secret enemies for milleniums, Once-ler has been protecting Earth with his massive power.
However Once-ler is not stronger than Sy, they are almost equal in strength, and Once-ler must train in secret to prepare his attack on Sy, to dely the Earths demise.
Ad blocker interference detected!
Wikia is a free-to-use site that makes money from advertising. We have a modified experience for viewers using ad blockers

Wikia is not accessible if you've made further modifications. Remove the custom ad blocker rule(s) and the page will load as expected.