IDENTITY
Name: Peter
Killed: August 6 2016
Cause Of Death: Stabbed In The Eye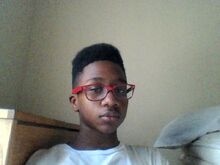 Killed By: Darker The Spirit
Occuptation: Employee (Phone Guy)
ANYONE HE KNOWN
Murdered:
Kevin (Darker The King Of Evil Spirits)
Springtrap (You can hear his Jumpscare sound if set the volume to 6.000) (Phone call night 4)
TRIVIA
•He seems one of the animatronics now. There is a animatronic called Pete
•He is rarely front of you at the FNAF 1 (Chance 1%)
•He seems a nice person in the picture but he is murdered someone..this could be possible he is purple guy...
MY OTHER PAGES FOR YOU TO READ
Darker-Darker The Dark Bear-|PETERl
My username and occupation and others are here
DarkerTDP gaming on the show
Ad blocker interference detected!
Wikia is a free-to-use site that makes money from advertising. We have a modified experience for viewers using ad blockers

Wikia is not accessible if you've made further modifications. Remove the custom ad blocker rule(s) and the page will load as expected.