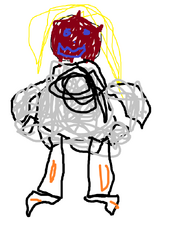 NOOKI MENERJ ES MAH OCEE! DONUT STEAL NOOKI MENERJ OR ANEY OV MAH OTHUR OCEES!
ABOOT
NOOKI MENERJ ES TOY BONNIE'S GURLFRIEEND N DEY ALWEYS LUV TU KIZ ECH OTHUR. NOOKI MENERJ WUZ MAD EN CALUFORNEA BAH JYLLEAN AFTEN. TOY BONNIE REPRUGREMED NOOKI MENERJ TU BEE HES GURLFRIEEND. NOOKI MENERJ ES BALLORA'S SESTUR! NOOKI MENERJ ELWEYS WERS A PENK N BLECK DRASS N WHETE PENTS N REVERS ELFF SHOOS. SHI HES LUNG BLUNDE HAYRE N BLU EYS. ET MEKES CENTS THET TOY BONNIE LUVS HUR B-CUZ SHI ES SU SU SU SU SU SU BOOTIFUL. SHE HES KELLED MIC SCHMEEDT B4. SHE ES MOAR PRITTER DEN TOY CHICA, MANGLE, BALLORA OR CERCUS BABY. I EM HUR SUN!
Ad blocker interference detected!
Wikia is a free-to-use site that makes money from advertising. We have a modified experience for viewers using ad blockers

Wikia is not accessible if you've made further modifications. Remove the custom ad blocker rule(s) and the page will load as expected.