"ahuhuhuhuhuhu"
-Muffet laughing.
Muffet is a spider-human thing lady..... wait you want more okay.... her name is a pun to the poem 'little miss muffet was pouring tea when a spider scared miss muffet away or however the f**k it goes.
She has purple skin, 6 pure black eyes, 8 legs which she uses 6 of them as arms.
She has a pet cupcake!!?!?!?! Well undertale is f**ked up.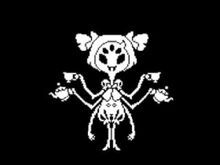 Quotes
"Let you go? Do be so silly."
Ad blocker interference detected!
Wikia is a free-to-use site that makes money from advertising. We have a modified experience for viewers using ad blockers

Wikia is not accessible if you've made further modifications. Remove the custom ad blocker rule(s) and the page will load as expected.