Kuro is a male Aquua who traveled to Earth from his home world and is very different from others of his kind. His name means black in Japanese.
Appearance
Kuro is black with a gray secondary color for his neck and hair. His side horns are tinted with teal to match up with an Aquua's color scheme. He stands at approximately 2.30 (6'55") and he weighs 120 lb, though his torso is a bit curved, which makes him look skinny.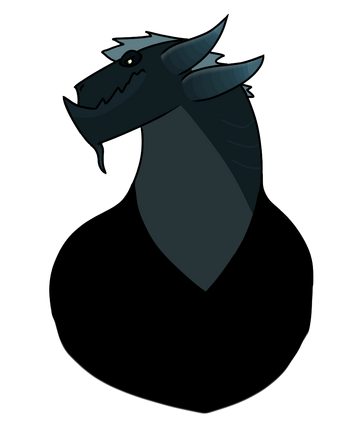 FNaF Role
SOMETIMES works as a guard, but he mainly wanders around the building and destroys things for fun.
Relationships
Kuro has not met anyone yet.
Personallity
Kuro is calm and gentle toward many, but he can be destructive and can also become very crazy at times in which he is pissed off to a point where he rampages at others. Kuro is respectful towards other Aquua, but, if they give him some sort of trouble, he can end up disliking one of his kind.
Backstory
Kuro was always a loner and never talked to other Aquua unless they needed to discuss something important with him. As he grew up, he became more and more anti-social (doesn't he seem familiar to that one hedgehog huehue). Kuro got his name from his main color and from the way his personality was at the time. "Dark, anti-social, etc" (BACKSTORIES ARE HARD TO WRITE OKAY ENJOY WHAT I PUT).
Interests
Violence
Fighting
Being alone
Teasing enemies while in combat
Non-interests