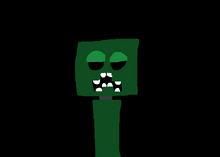 Though Hisstronic is called 2.0, he is actually an originall animatronic which hid behind the Freddy poster, hence the squeaky sound when you poke his nose. (Easter egg if you didn't know)
Hisstronic looks like a creeper but creepier! (See the picture uploaded) He is an animatronic who tries to protect the security guard, but like the other 2.0 animatronics, will mistake them as an old tronic if they have the mask on.
Hisstronic is good friends with Chica 2.0 and tried to save Foxy 2.0 but the kids were too scared of him. Hisstronic was originally working at the pizzaria but was seen as too scary and dumped in the Parts & Service room, where he was left supposedly disabled.
He is more intelligent than other 2.0 animatronics, however; if Mike tells him he's in a disguise he will understand. He would otherwise try to kill him, like the other animatronics should Mike be wearing a mask.