FNADM 2 : The Starter or Five nights at Domino Mall is a sequel for the series, actually includes a third character.
Manlung the Rabbit
Is the almost-main character, just like phantoms in FNAF3, he only can Jumpscare you. but rather make you hallunactioning for 30 seconds.
As always, he pop at your screen with no animated jumpscare.
The Easter Egg Room
Find out the references your self ;-)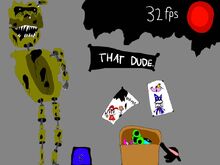 TDP Productions & Entertainment
参照は... Kubzスカウトはその奇妙です、Markiplierはピンクの髭で、胸の中の青いミニカードはDanTDMです。そして忍者はtryhardninja、青い猫はキャンディー、アイスクリームを持つアニマトロニクスは赤ちゃんです。
Ad blocker interference detected!
Wikia is a free-to-use site that makes money from advertising. We have a modified experience for viewers using ad blockers

Wikia is not accessible if you've made further modifications. Remove the custom ad blocker rule(s) and the page will load as expected.