"Razbunny Entertainment"





This is part of the Five Nights at Ravic's series made by Scopica. You may only read it, but don't edit it without Scopica's permission; unless you are fixing spelling mistakes. Also, this is pure imagination! Deal with it!
Five Nights at Ravic's 3 is the threequel to Scopica's series.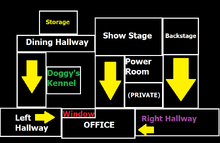 Characters
Phantom Squippy
Phantom Monko
Phantom Salvage
Mechanics
A lot of phantoms to avoid.
The lack of eye contact for Casper & Perry.
Tighten a wire's pipes with a screwdriver to keep Trapcat away.
Flashlight for Doggy.
Cameras for Monko.
Plot
"Thirty years... Thirty years I have since left that damn red rabbit... And now, they're building Ravic Scares.. This can't be right! They need to learn what happened on that day!"
Ad blocker interference detected!
Wikia is a free-to-use site that makes money from advertising. We have a modified experience for viewers using ad blockers

Wikia is not accessible if you've made further modifications. Remove the custom ad blocker rule(s) and the page will load as expected.