"Razbunny Entertainment"





This is part of the Five Nights at Ravic's series made by Scopica. You may only read it, but don't edit it without Scopica's permission; unless you are fixing spelling mistakes. Also, this is pure imagination! Deal with it!
Five Nights at Ravic's is a fan made series made by Scopica.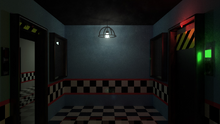 Characters
ERR_NOTFOUNDNOTFOUNDNOTFOUNDNOTFOUNDNOTFOUNDNOTFOUND
Mechanics
Classic 2-door system
A lot of eerie noises (and jumpscares!)
A complicated backstory
And ANIMATRONICS!
Plot
You are the nightguard applying for Ravic's Sandwich Store which was opened 5 years after the 1987 incident at the Fazbear Restaurant. You start your night shift and you get a familiar sound.
"RING RING, RING RING..."
Map
Ad blocker interference detected!
Wikia is a free-to-use site that makes money from advertising. We have a modified experience for viewers using ad blockers

Wikia is not accessible if you've made further modifications. Remove the custom ad blocker rule(s) and the page will load as expected.