Five Nights At Loxtro's 2 is the fake sequel to the fake FNaL series by Hua Ja Frol.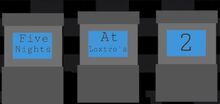 Plot
10 years later, you join the nightshift at an abandoned school. However, Loxtro and his team return for more mania, and worn down. You need to find the way out or he will eat your flesh. Can you survive five nights once again?
Tagline
"Loxtro is always there. Not for you, but for your blood."
Animatronics
Abandoned Loxtro
Abandoned Jasper
Abandoned Ranka
Abandoned Chik
Abandoned Golden Loxtro
Abandoned (AKA Abandoned AVI)
BR Puppet
Mechanics
Class Doors: hide from these.
Power Battery: Shows the power.
Monitor: you can view Loxtro.
Air Conditioning: (used for BR Puppet) Use this to keep BR Puppet away.
Map