WARNING!
DO NOT EDIT WITHOUT MY PERMISSION!
YOU KNOW WHAT HAPPENS IF MONRING WILL FIND YOU!
HE'LL RIP YOUR INSIDES AND FIX WHAT EDITED!
SO DON'T DO IT <insert name here>!
About
This is an DLC for playing the most hard mode of all time, FNADM : Help.
FNADM : Help has all animatronics, Circus Baby, Nightmare Freddy, Candy the Cat, Blank, Old Blank, Monring, Nightmare Monring, Monking, Leobear, Ender Freddy, Mangle, Panswer, Ravic The Razbunny, Others!
The things is, this game is not in to any of the timeline. it's just for fun, this DLC only for playing, not theorized.
It's gonna be released... October 3 2035.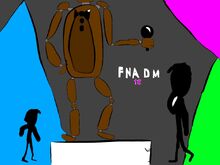 Goodbye
God Bless You!