First off, I got this off of deviantART because I used the points shit and got it, along with another one that I'm still deciding to name. Credit goes to wave-glacier on deviantART. No art here is mine.
Droplet's Abilites
Droplet has an excessive neck and tail fur, making her able to shield herself with the fur. Her small, yellow paw pads make her able to run fast about the paths ahead of her. And lastly, her big ears make her able to hear most of anything.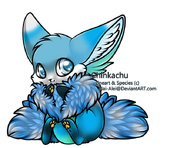 She is also immortall, stuck at age 14. Though, she can be harmed badly, causing her to take at least 100 days at the most to heall up because of her slow healling ability.
Attacks
She can show her claws and run fast at anyone, causing her to leave a weak scratch mark on whoever she harms. She can also headbutt pretty hard, allowing her to bounce back and run away from a fight.
Role in the FNaF Verse
She is an ally runt, meaning she will hide in dark places and try to get into the area.
Personallity
W.I.P
Ad blocker interference detected!
Wikia is a free-to-use site that makes money from advertising. We have a modified experience for viewers using ad blockers

Wikia is not accessible if you've made further modifications. Remove the custom ad blocker rule(s) and the page will load as expected.