Deere the deer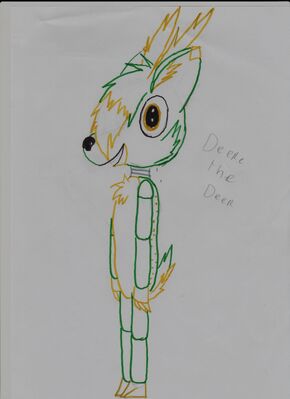 Deere is a deer animatronic, he is inspired by a trekker brand called John Deere. He belongs to the user: Rainbow 'Foxy' Dash, so do NOT edit this page.
Personality
He is a cheery and confident guy, he likes to see others and loves to help them. He always loves to talk to others about his intressed and he loves to listen to others
Likes
He likes to talk about John Deere of course and to talk about trekkers. He also likes to make new friends and to help others in anything. 
Dislikes
He doesnt like a trekker brand called Case IH, this due to a big rivaly between John Deere and Case IH. 
Behavior
He doesnt directly want to kill you, he seems to usually try to be friendly towards humans, but mallfunctions sometimes. This causing him to accidentally kill the nightgaurd who watches him.
Ad blocker interference detected!
Wikia is a free-to-use site that makes money from advertising. We have a modified experience for viewers using ad blockers

Wikia is not accessible if you've made further modifications. Remove the custom ad blocker rule(s) and the page will load as expected.