THIS ARTICLE IS A WORK IN PROGRESS!
Take note that before you say "taking a vidya gam churutctr iz dum", they already did it with Sonic.
Conker

Character
Full name
Conker The Squirrel
Species
Squirrel
Gender
Male
Occupation
unknown
Colour
Orange
Conker is a Squirrel (obviously) from the game, Conker's Bad Fur Day, originally from Diddy Kong Racing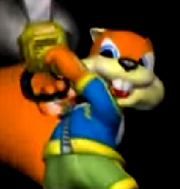 Appearance
Conker is an Orangish Red squirrel, wearing a Blue Hoodie and Gloves, his other design is the same except he wears green shorts and has no gloves.
Ad blocker interference detected!
Wikia is a free-to-use site that makes money from advertising. We have a modified experience for viewers using ad blockers

Wikia is not accessible if you've made further modifications. Remove the custom ad blocker rule(s) and the page will load as expected.