THE FOLLOWING CHARACTER BELONGS TO THEBEARNAMEDFRED. ANY EDITS MUST BE MADE WITH HIS PERMISSION.
"
You know what,

<insert name here>

? I think you are me are gonna be awesome together.
"
 

— BonnieBomb, PhD.
BonnieBomb is a dank meme god that originates from the black hole known as reddit.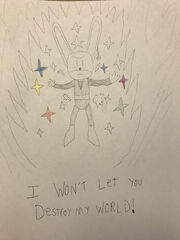 Appearance
BonnieBomb looks similar to Bonnie, but he wears outfits of anime characters, specifically Dragon Ball. The known outfits he has worn are:
Vegeta (Buu Saga)
Goku Black
Hit
Future Trunks (Z and Super)
Saitama
Personality
BonnieBomb is rash and quite silly. He'll make jokes in random situations, and whenever he approves of something, his face becomes Lennified. In serious situations, such as that one time he worked at Freddy Fazbear's Pizza, he will resort to random tactics of survival. No matter how stupid, they always work. Despite this silliness, he cares deeply about his friends Vixina-San, Digs-Kun, Arctic-San, Snow and Green, and his daughter, Shade-San. He also cares about people in bad situations.
Backstory
WARNING! DANKNESS AHEAD!
Memes.
Memes that died over the years as their viewers turned from Vine to Snapchat and whatnot.
Four hundred and twenty dank memes instilled their inner Lenny to give birth to the Meme God.
That god was BonnieBomb.
He retold his story in a novel, "The Stupid Adventures of a Meme Lord" He was given a high rating by critics.
This was deep.
Too deep, maybe.
Relationships
Shade-San: Daughter
Vixina-San: Friend
Digs-Kun and Arctic-San: Friend
Gabe: Pet Dog
Guy: Teacher/Friend
King Dohj: Enemy
Gary "Dumbutt" Oak: Enemy
Trivia
Bonniebomb is allergic to ships. He's also afraid of reptiles.
Ad blocker interference detected!
Wikia is a free-to-use site that makes money from advertising. We have a modified experience for viewers using ad blockers

Wikia is not accessible if you've made further modifications. Remove the custom ad blocker rule(s) and the page will load as expected.