n0Te froM le Creatoe:
DONUT STEL ME OCEEEEEE!!!!!! OR ILL HIT U WITh MeH SwErD!!
bIndY iS a ANk DImon. hEE CoMES fROM bINDY And dA aNK MooCHine
dEspacIto an peArSonaALitTree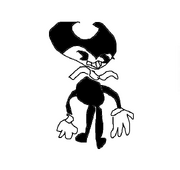 bINdy iS maDe of Ank. hE hAS a CrOSSSAINT ShaPed HEaD. He has PuckMeN iys anS a SANES mOuth. hE is A cartoN. He hAZ mIckEY mOOse gLovEs aNd SheWs. hE wEars a POOSTA B0W ty. he DoNces alL le Tim.
aBi Lites
hE caN COeM oUt of ANk. hE uses AnK to keel u. bIndY caN tUrN pEople to ANk. bInDy cAN sUmmoN aNk zoombES.
rElAtionshiPs
Horrible Goofy RIpoff-
he Is fWends wiTh hIm. bUt HGR sWiPpeD BIndY's diddly DurN sAnDviCh
ALICS ANGAL-
Ey r RiivaLS. aFTER ell' it,z a Damon versues en Angal.
POtaGiNaST-
He hat hUm. hE wIll tRy to KeeL hIs aT aLl CooSt.
Final Words
This is just a joke. Don't take it seriously.
-Terriansponge23theory
Ad blocker interference detected!
Wikia is a free-to-use site that makes money from advertising. We have a modified experience for viewers using ad blockers

Wikia is not accessible if you've made further modifications. Remove the custom ad blocker rule(s) and the page will load as expected.