Benson is a book Animatronic, who was made by the owner of G. T. Thuyên's pizzeria's friend. He was the first animatronic there.
Appearances
Like his name suggests, Benson is a dark red book. He has limbs and facial features. His Feet are orange, while his hands are yellow. Despite looking like a book, he's actually made of metal and plastic, so you cant actually open him. He just looks like a giant book.
History
Late 1981
Benson was made by the owner of G. T. Thuyên's Pizzeria's friend. He was put in "Library Land" and is programmed to read stories and fairy tales to kids, but like all machines, there are always some glitches. He might not see you as a human, nor an endoskeleton but an intruder...for some reason, he can turn his smile in to a frown when hes upset. Though he's not really a threat since he can only move five feet an hour. Maintenance is expensive, so just leave him alone, and put him back where he should be in the morning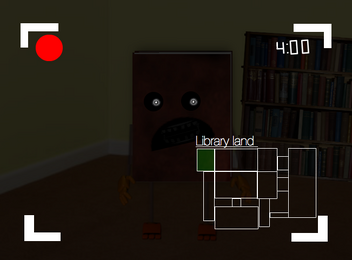 EARLY 1982
Benson was knocked over during a birthday party which made him malfunction even more. He actually got near the office once. ONCE. Then, he became in-active at night.
MID 1982
Benson is still inactive at night. The company made plushies of him and put them in the "Gift Room"
LATE 1982
Benson started being active again. A guard goes missing only to be found dead under the floor board. This incident is later known the "Floorboard Incident".
EARLY 1983
Benson was dismantled because the company thought he was malfunctioning. Parts of him were used to make another book animatronic.
Ad blocker interference detected!
Wikia is a free-to-use site that makes money from advertising. We have a modified experience for viewers using ad blockers

Wikia is not accessible if you've made further modifications. Remove the custom ad blocker rule(s) and the page will load as expected.