Ben (Or BenDrowned) is a Cyberghost (A cyberghost is a ghost that can go inside devices)
Backstory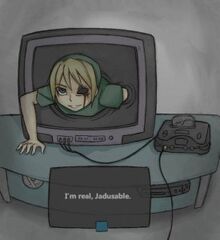 A cyberghost that possessed an innocent cartridge was a little boy, until he drowned at lake and possessed the game called The Legend of Zelda. After an innocent victim called Alex Hall bought the cartridge, his life turned upside down as he is being stalked by Ben, his worst nightmare.
Consqences
When Alex Hall put a cartridge in his Nintendo 64, a normal game started. After some time of playing that game, he noticed that his game, is not a usual one. In fact, there were different audio logs, textures and of course, consequences. Alex couldn't sleep as the same eerie song, called 'The Song of Unhealing', stalked through his dreams, pushing him off a cliff of insanity.
Then, when he got a capture card, he screencapped what happened, and put it in his laptop, therefore transferring Ben to the laptop and opening Cleverbot.
Likes
Dislikes
Anyone Flirting with him
Being Hit By Water
Being hurt

"You've Met with A terrible Fate,Haven't you?"



You can go ahead and take a look at the BenDrowned/Ben page. But don't edit it without Zoey's permission. Tamper with it and you will be Drowned by Ben.