Phone Guy References
FNAF 1:
"Okay, so supposedly in the old location there was this kid animatronic named Balloon Boy. The old nightguard at that location said that he never killed, but he more rather, sabotaged the night? Anyways, his real job was to give balloons to all the children. From time to time he would go visit the tables to chat with the kids! Yep, a functioning voice box! That spoke English! So why is that important here? I think they re-created him. He is actually complete with no scratches, just unused. He looks like a real human however. He has real, smooth, silky hair just like a human! I think I mistook him as a human once! But he has been acting strange on later nights, so be careful!"
FNAF 3:
"Also, in the back, is the master of illusions, Balloon Boy. He appears right in front of visitors randomly, which is cool for the effect of a horror attraction, but thats not good for you! Heh heh... Anyways, don't worry! He won't do anything... Hopefully. Alright, who cares, its your first night! don't worry!"
Personality
Unlike Balloon Boy from the FNaF 2 game, this BB is shy, polite, and nice. However, at night time, he always complains about something, and wakes up the next day not knowing what happened at night. When he is scared, he clutches his balloon tightly with 2 hands. If he is Happy or glad, he just holds it tightly with one. Any sign or hearing of losing the balloon will make him scared, angry, berserk, and some times just so crazy, he could possibly go on a rage.
He dreads the existence of the first BB, and trys to say that he has nothing to do with him. However, him and original BB have a dark secret. Original BB is his soul, and can just end his life if wanted.
His Human Counter part is named Mikey Toms.
PLEASE NOTE THIS PICTURE IS DRAWN BY DEVIANT ART USER TotallyADD AND I DIDNT DRAW A SINGLE PIXEL OF IT.
Appearance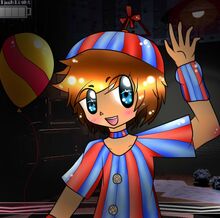 Balloon Boy 2.0 has the normal BB look, except he usually never holds the Balloons! sign. He has Goldish, light, smooth hair and is quite short compared to other animatronics.
Popular use of Sayings
Gotcha!
Bet on it!
Hello!
Hi
-giggles-
-mumble-
Boo!
Yay!
Relationships with Official Animatronics.
BFFs:
Foxy
Chica
Good Friends:
Freddy
Bonnie
Toy Bonnie
Toy Chica
Toy Freddy
Golden Freddy
Neutral:
Puppet
Pissed:
Mangle
Balloon Boy
Ad blocker interference detected!
Wikia is a free-to-use site that makes money from advertising. We have a modified experience for viewers using ad blockers

Wikia is not accessible if you've made further modifications. Remove the custom ad blocker rule(s) and the page will load as expected.