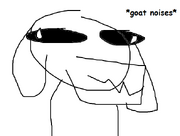 THIS IS MAI OCEE HE CAN SH00T LAZURS AND FIYA FIRE AND ISA GOD (DA GOD OF HYPORDEETH ACTUALIE)
HE IS DA SUN OF TOURIEL AND ASGUR AND HE DED CAUSE HUMANS DEDDED HIM WE HE BROT CARA TO DA HOOMAN WORL BUT TBH I THINK CARA KILLED HIS FIEN AZZ!1!!!!!
NAO HE IZ A GAWD AND CAN DO GAWDLY THINGZ LIKE DED PEOPL AND BECOM A FLOWUR WHENEVA HE WANNA DO DAT HE IS 100% MAI OCEE AND A FUKIN GAWD SO HE'LL EET UR FAEC!11111
MY OCEE DUN STEEL IF U STEEL ASREEL WILL EAT UR fAEC!!!
Ad blocker interference detected!
Wikia is a free-to-use site that makes money from advertising. We have a modified experience for viewers using ad blockers

Wikia is not accessible if you've made further modifications. Remove the custom ad blocker rule(s) and the page will load as expected.